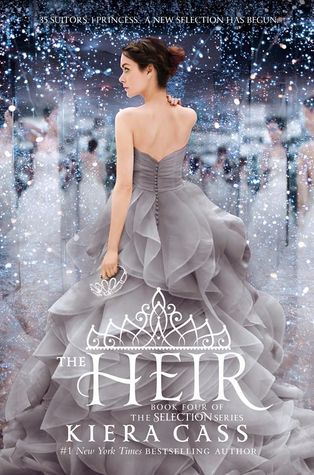 Title: The Heir
Author: Kiera Cass
Series: The Selection #4
Pages: 342 
Publisher: HarperTeen
Edition Language: English
Format: PaperBack
ASIN: B00MFYCZ2U 
Princess Eadlyn has grown up hearing endless stories about how her mother and father met. Twenty years ago, America Singer entered the Selection and won the heart of Prince Maxon—and they lived happily ever after. Eadlyn has always found their fairy-tale story romantic, but she has no interest in trying to repeat it. If it were up to her, she'd put off marriage for as long as possible.
But a princess's life is never entirely her own, and Eadlyn can't escape her very own Selection—no matter how fervently she protests.
Eadlyn doesn't expect her story to end in romance. But as the competition begins, one entry may just capture Eadlyn's heart, showing her all the possibilities that lie in front of her . . . and proving that finding her own happily ever after isn't as impossible as she's always thought
REVIEW:
I never expected that The One wasn't the end of The Selection Series (So i guess, my whole life has been a lie xD)
I read this book about a couple months ago and yes, the review is came out very late as i planned.
First, i am going to mention about how different is Eadlyn and America's character.
As we know, America is calm and quite one while Eadlyn is totally the opposite of America's character. Yep, I think it's because Eadlyn was born as a princess and queen-to-be while America is once a Five.
So, as always, i am really in love with the cover!!! xD The cover is very luxurious ❤
The Heirs tells about the daughter of America, Eadlyn.The theme is not far from The Selection. So, if in The Selection America is the one who participated, in the Heir it's the opposite. Eadlyn have to look for a life partner through the competition which is followed by 33 suitors include Marlee's son ( i've forgotten who's his name hehe)
There are so many supporting role in this story, somes just 'passing through'. Nah, because my memory is fading away little by little (I think i should re-read this book hahaha), i am not going to mention any further.
Overall, i love this book even tough i like America's stories more than Eadlyn's. But, of course i am 'still' going to buy the next book titled The Crown. From what i've heard, The Crown is going to be the last book in this Series… Sooo, yess, ofc i am looking forward to buy and read it hehe..
Btw, for those who read this review, i'd like to ask for y'all apologize because this review is quite 'emm' IDK why, but i think like there's something missing here (i think it's because i wrote this review loonnggg timee after i finished reading the book so my memory has faded)