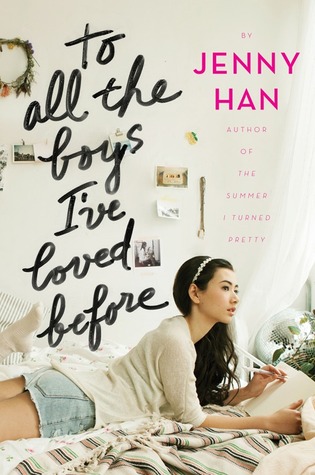 Title: To All The Boys I've Loved Before
Writer: Jenny Han
Publisher: Simon & Schuster
No. of Pages: 355
ISBN: 978-1-4424-2670-2 (Hardcover)
My Edition: Internasional/Export/Softcover
Language: English
Lara Jean keeps her love letters in a hatbox her mother gave her.
They aren't love letters that anyone else wrote for her, these are ones she's written. One for every boy she's ever loved—five in all. When she writes, she can pour out her heart and soul and say all the things she would never say in real life, because her letters are for her eyes only. Until the day her secret letters are mailed, and suddenly Lara Jean's love life goes from imaginary to out of control.
REVIEW:
"You only like guys you don't have a chance with, because you're scared."
This book is written from Lara Jean Song-Covey Point of View, Korean-America girl. Sixteen y.o girl with two sisters, Margot and Katherine (a.k.a Kitty)
Lara Jean is an ordinary girl with normal Life, had crush on her sister's boyfriend which is her neighbour, named Josh. Lara's not very popular at school, and have single father who's a doctor (btw, her mother passed away when she was nine).
But, one day, her 'normal' life became out of control because of just some LETTERS!
"If love is like a possession, maybe my letter are like my exorcisms"
The love letters that she wrote for all the boys she's loved before, which kept in the hatbox her mother's given are all mailed!!! Josh Sanderson, her sister's boyfriend, also recieved the letter (of course!)  In the other side, Peter Kavinsky, the most popular boy in school (picking up Lara's sentence: Peter is the handsomest among the handsome boys) also recieved the love letter.
So, to keep their friendship (Josh and Lara) , Lara made a deal with Peter to do a fake relationship so that Josh won't think much about the love letter he'd recieved.  And, Lara asked Josh to forget the love letter and don't tell anything to her sister, Margot, who's still study in Scotland.
Lara and Peter's fake relationship is not going so well. Peter always run to Genevieve, his Ex, whenever she ask him and it makes Lara Jean 'jealous'. Gen is also populer as 'cruel woman'. She'd ever bullied 'the another' Peter's Ex because she always thinks that Peter belongs only to her (What… $%#) And it makes Lara Jean a little bit afraid.
and what she afraid about was happening…
---
First time read Jenny Han's book and fell in love with her writing style! The family and romance elements merged into one and give us a heartwarming feeling.
Actually, at first, i wasn't really interested with this book. I judged the cover. IDK why, but, I do always hate book with 'Real Human' cover (I think this is OCD, LOL!!)
By the way, The Writer gave each characters the exact propotions, so, the readers can feel the existance of side-character. In the other side, side character also have an important role in this book,  they're not only passing through like in the mostly books.
I love the story line so much! Although there's some chapters which only contains sooo little paragraph which i don't really mind but i just found out that romance books chapters are always like that tho…
Well, there's some reason why i love the storyline:
1. Clear, not wordy
2. Chronological plot with a little flashbacks
3. Clearly written flashback although it's not seperated by sub-section