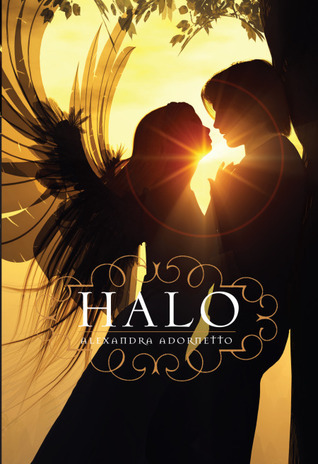 Title: Halo
Author: Alexandra Adornetto
Published: August 31st, 2010
484 pages
Format: E-book
ISBN: 0312656262
REVIEW:
Three angels are sent by Heaven to our earth to protect our earth from darkness. Gabriel, Ivy, and Bethany are sent to a city named Venus Cove (a fiction city created by the author. Venus Cove was a sleepy beachside town. Among Gabriel, Ivy, and Bethany, Bethany is the youngest and the most human-alike.
"Why does toothpaste give me a headache?" I asked. My brother and sister flashed me stern looks, but the mentor was unfazed.
Really, that paragraph make me laugh out loud. Not really funny, actually, but it was too nonsense. Really, Bethany our angel, if you don't want a headache, don't use that toothpaste.
One of the most frustating words in the human language, as far as i could tell, was love. So much meaning attached to this one little word.
Ah ya, because this book's genre is paranormal romance. The conflict certaily contains an element of romance. Yeah, during the mission of against the gathering dark forces of Lucifer's demons, the youngest angel, Bethany falls in love with Xavier Woods, the Brye Hamilton School's captain and i have no idea about this! Angels can love someone? Oh ya, the main conflict is forbidden love among the angel and human being and also there is the third person between Bethany and Xavier, Jake Thorn. Jake? Really, it made me remembered about Twilight Saga ( Bella's always call Jacob 'Jake')
And back to topics…
I need about 4-5 days to finish this book, and this post is very late post. This post is scheduled to be posted yesterday (along with Birthday greetings for BBI, which is i haven't post it yet :() Well, if i read this book in indonesian version, i think i can finsih it in a day. But..  i read the english version! Actually, the other reason why i can't finish this book sooner is because: this book is pretty boring.
From chapter 1- the mid, all i've read was about the new life of Bethany. And… who cares? But, i love the writer's writing style, this story written from first-person perspective. The descriptions were beautiful and make me impressed.
It had a grilsh charm with its white furniture, iron canopy bed, and rosebud wallpaper. The white dressing table had a floral stencil on its drawers, and there was a rattan rocking chair in one corner. A dainty desk with turned legs stood against a wall beside the bed.
I decided to read this book because of a recommendation from a friend. In my Romance Group,  due the 'baca bareng' i should write a post about what is paranormal romance? And also read a paranormal romance book.
Really, i was very dissapointed with Bethany. How can 17 years old Angel can be so CLUELESS about everything? Didn't she learned everything about human being in heaven?
Talking about the cover, i like the indonesian version more. This cover yaa.. not really ugly but.. i think it's not fit well with the story plot. Too childish.
 Overall, i didn't like this book at all. Maybe it because paranormal romance is not my cup of tea (and realized that i enjoyed Twilight) At first, i thought that this book would be good ( i read the synopsis behind this book in bookstore and decided to bought the e-book version :D) and… really, this book is too boring (forget about when Bethany and Xavier were a couple). There are a lot of people said that this book is angel version of Twilight. What the?? Really.. they're different at all!
Ratings: 1.5 of 5 stars.